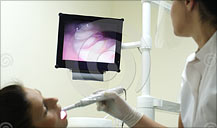 We at Northbrook Endodontics are experts at diagnosing and treating dental pain and Dr Lordan and his team are passionate about ensuring you have an excellent root canal experience in a comfortable, caring environment.
Problematic teeth can be difficult to identify and anaesthetise and we have various methods and technologies including the renowned "Light Sleeper" method of anaesthetising particularly difficult teeth that have been previously resistant to anaesthetic.
We stage our anaesthetic administration according to the needs of the situation and we ensure you comfort and well being at all stages of your root canal treatment.
"We will take your pain away."